The Combustibles are thrilled to be a small part of Dishoom – From Bombay With Love, a unique tour de force of the sights, sounds, cafes and food of South Bombay (Bloombsbury Publishing, Authors – Shamil Thakrar, Kavi Thakrar & Naved Nasir, Photography – Haarala Hamilton). With over a hundred recipes featured in Dishoom's five restaurants in London, and newer ones in Edinburgh and Manchester, the publication describes itself as a "Cookery Book And Highly Subjective Guide To Bombay With Map.": http://www.dishoom.com/cookery-book/
"You may not find Bombay an easy sort of place. At least not to begin with…It's a crowded place, of course. Glass and steel alternates with corrugated iron and then gives way to fading Art Deco and wild, slightly oriental Gothic…It's clearly a city of massive and closely juxtaposed extremes…(however)…Once you have found your place of refuge, Bombay first becomes human and then – without you noticing exactly when – it completes the seduction and becomes delightful…the Irani cafes are a significant part of this seduction…All who know them well seem to have a fond memory of them…(as) places for growing up, or for growing old, whoever you were." (Excerpts from Page 13).
The Bombay so eloquently described and beautifully pictured in Dishoom's book is, in fact, the Bombay that was part and parcel of The Combustibles' daily life – as individuals and as a rock band. Kyani's in Dhobi Talao, for example, comes to mind as home to Nissim from his studies at St. Xavier's College and for the band that played many a concert in the historic quadrangle at the College. As one finishes the day traced by the book's authors through the Third Dinner, Pudding and then Tipples, perhaps one can meander back to the even later night through a frequent journey of The Combustibles as they finished their day after a second session at the Blow-Up disco at the Taj Mahal Palace Hotel.
"Gradually the café will be filled with office goers, relieved to be out of the absurdly crowded Bombay local train, and students from the nearby St. Xavier's…Sitting here, you can almost imagine the café as it might have been in the early twentieth century. No doubt the streets were a little quieter back then, but in truth, it really hasn't changed that much. " (Excerpts from Page 27)
After the club closed at 1:00 a.m. and the equipment had then been safely stowed away, the band often crowded into the Taylor family's black 1952 Hillman Minx (#BYA 9046) and George drove back through the fresh air of Marine Drive, made a slight detour at Kemp's Corner to drop Nissim off at his Peacock Place residence (opposite the U.S. Consulate) on Warden Road (location of the band's iconic photo featured on Page 254) and drove back to Bandra where the rest of members lived – more likely about 2:00 a.m. by this time. On other occasions when the Hillman was not available, The Combustibles homeward journey was more interesting – with the band passing in the middle of the night some of the historical locations mentioned in the book and the roads highlighted in the map of South Bombay affixed just behind the front cover.
"Walk down the busy (and actually pleasant) Colaba Causeway towards Leopold's, an Irani café of sorts…This is the Colaba of the backpacker, the hippie, the Arab and African tourists…(but) We cannot let you leave Colaba without telling you about the far-out rock music and club scene that thrived there in the 1960s and 1970s…In 1972, a pair of British musicians Robert Plant and Jimmy Page were drifting through Bombay…and turned up at the much grungier Slip-Disc…The ensuing impromptu Led Zeppelin gig is thirty minutes of legend in Bombay's rock-culture history." (Excerpts from Page 249 – 254).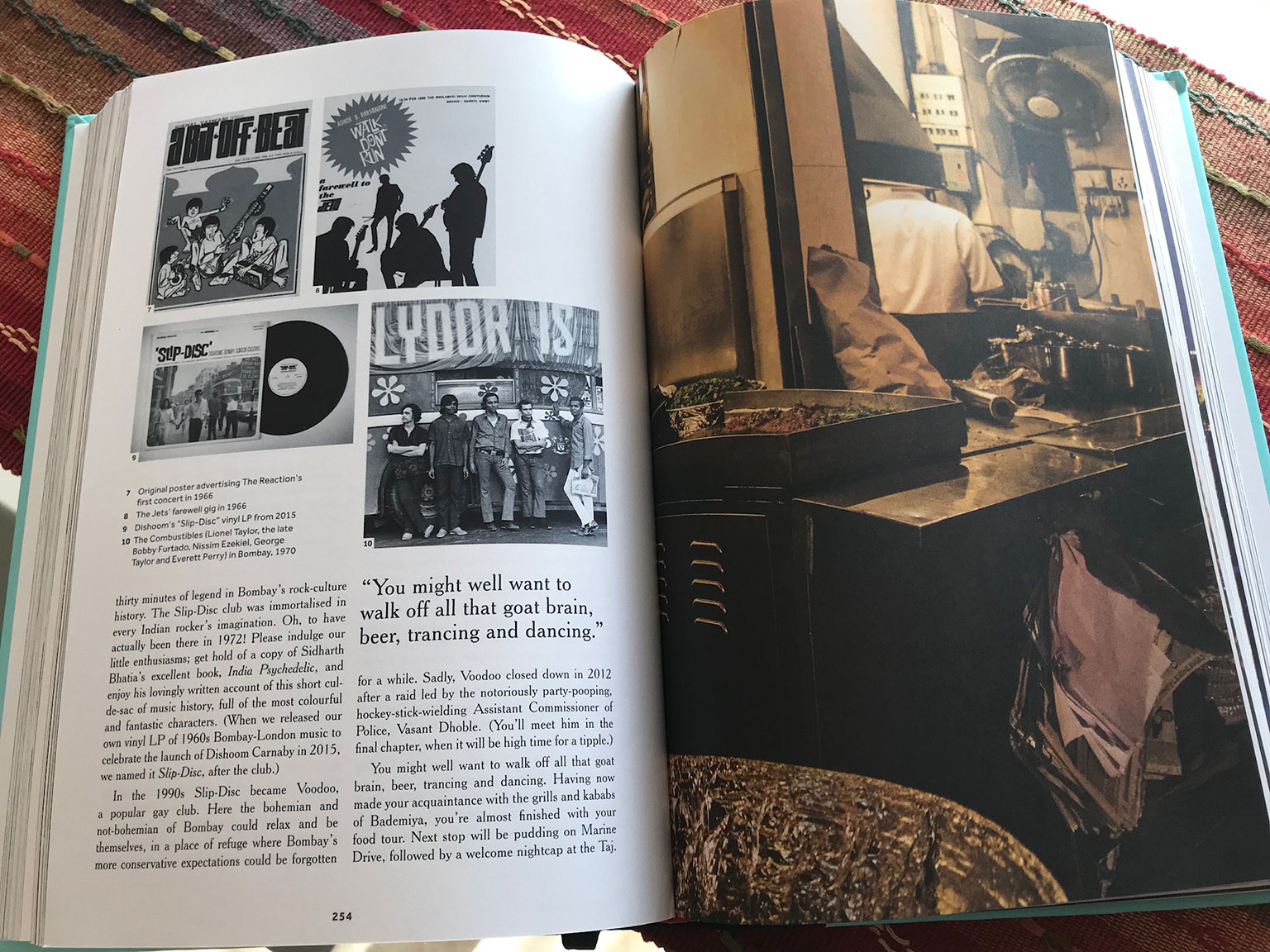 If a 21st Century drone was tracking The Combustibles then, it would have followed Everett, George, Lionel, Bobby and Nissim as well as manager Godfrey and roadie Clarence, as they started a leisurely late-night journey through a Bombay finally beginning to close down for a few hours. Walking out from the back of the Taj, the group would go past Regal Cinema at the edge of Colaba Causeway and stroll leisurely past the Rajabai Clock Tower of the University of Bombay and cross Oval Maidan – now taking a breather for a few hours from the sound of cricket otherwise incessantly played! The walk would end at Churchgate Station – eerily silent now and missing the hundreds of thousands who would begin to throng the location just a few hours later. A Western Railway local train – almost completely unoccupied – would allow the band to board leisurely and relax through quick stops at Marine Lines, Charni Road and to Grant Road – where Nissim would step out to head home and the rest of the band continued another few stops through Bombay Central, Dadar and Mahim to Bandra.
But if the drone were to follow Nissim on his final journey from Grant Road Station to Warden Road, a final piece of the Bombay puzzle would fall into place. A taxi ride in an iconic yellow and black antiquated Fiat (pictured in the book) would have Nissim home in five minutes with the complete absence of traffic at that time. However, after months-long late-night gigs at the Blow-Up ending post 1:00 a.m. and a sleep cycle completely disrupted, taking a twenty-minute walk through the coolness and silence of the Bombay night was sometimes a preferred option. Google Maps would have followed Nissim through Tardeo Junction and along the usually bustling Gowalia Tank Road and eventually to a slight right turn onto Warden Road – at the junction with Nepean Sea Road – and a final few hundred yards home.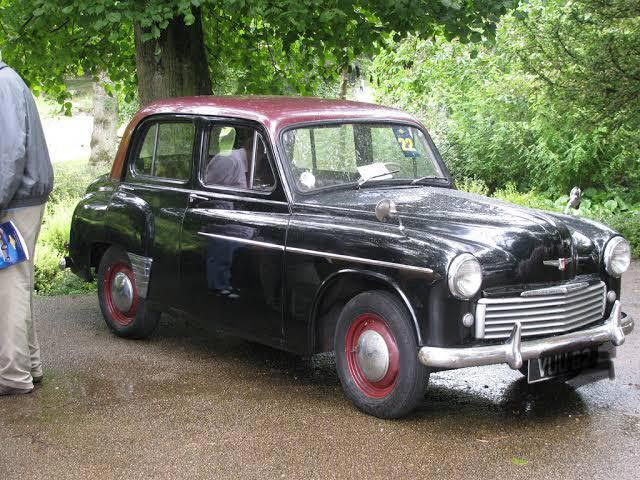 But might you wonder about safety, walking alone in the middle of the night? Not really, as that is where the city that is Bombay has its unique charm – perhaps hard to comprehend for those not familiar with it all. The route from Grant Road Station to Warden Road is defined by what is Bombay – a normally crowded thoroughfare containing large numbers of small shops, restaurants and hotels. Many of the out-of-town workers in these establishments define home as where they work – and sleeping in the shop or restaurant or on the sidewalk outside is the norm. It is these hundreds and thousands of individuals sleeping on the sidewalk that offer safety for Nissim as he walks home from another late night onstage with The Combustibles.
This was Bombay then as it is now and as featured in Dishoom's From Bombay With Love – a city of amazing contrasts that serve only to highlight its uniqueness.