The famous rock band Grand Funk Railroad is forever identified with its signature song, "We're An American Band," which was played incessantly in Bombay's discos in the early 1970s. The Combustibles on the other hand were a Bandra Band – and always proud to be one!
Bandra is one of the erstwhile Bombay's most famous suburbs – as vibrant and full of life today as it was during The Combustibles' era. Every two years since 2003, its residents have re-lived their history during a week-long event, "Celebrate Bandra." Music was the theme of the latest event (November 22-30, 2014) and The Combustibles (along with many others) contributed a short and nostalgic piece about their memories of their hometown, entitled "We're A Bandra Band!"
Read it here http://www.celebratebandra.com/bandra-tales.html – it's the last article in the feature.
"…to understand the history of The Combustibles you have to understand Bandra itself in the '60s! Bandra's love for music – be it jazz, classical, rock or country – was ingrained in every household. From the day one was born to the final send-off, music was part of one's life."
"Two of the earliest restaurants that promoted live pop music in Bandra were Lunik and Gazebo on Linking Road, usually featuring Sunday morning jam sessions."
"The Combustibles and other bands also needed a network of amazingly skilled local craftsmen who could repair and build guitars and amplifiers and sound-systems to enable the music to sound as well as was possible in those days. Who could forget Freddy Fernandes, who lived at the end of St. Andrew's Road, adjacent to the famous Hersch Bakery, and was the magician of choice in keeping guitars and amplifiers working."
"It's indeed been a long and fun journey for The Combustibles with unexpected twists and turns. But at the end of the day, all its members proudly still say, "We're A Bandra Band!"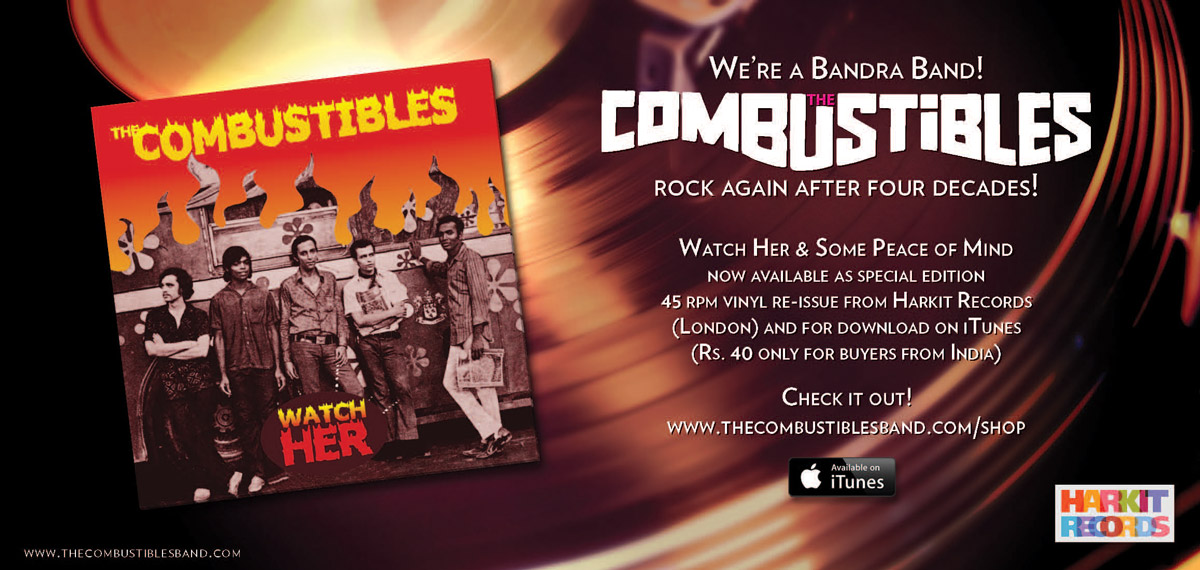 Ad Design: @paulignacio