The Combustibles are featured in the August issue of Shindig! magazine and also in Shindig! Radio Broadcast#1. Here is an excerpt from the magazine:
"Highly explosive out of time garage-punk from India!"
"The fascination the Beatles had with India is part of music history. Far less is known about the thriving local rock scene in Bombay into which Robert Plant and Jimmy Page of Led Zeppelin stumbled in the early '70s. Their impromptu live jam in 1972 with local musicians at The Slip Disc club is now part of rock legend.
It was this live music scene that Nissim Ezekiel became an integral part in '69, when invited to join The Combustibles on rhythm guitar. Amongst Indian bands, The Combustibles were unique in featuring original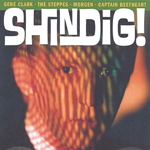 compositions in their live performances. Driven by the creativity of songwriter and vocalist Everett Perry, compositions such as 'Watch Her', 'Some Peace Of Mind', 'There's A Love', 'Hey Doc' and 'Cold December' became a staple of the band's set."
To buy the August issue, click here.